DONATE TO HIGHWAY MARKER FUND FOR FT. ST. PIERRE
UPCOMING EVENTS SIGN UP FOR E-MAIL OR TO BE A VOLUNTEER
VOLUNTEER SITE CLEANUP DAY SUCCESS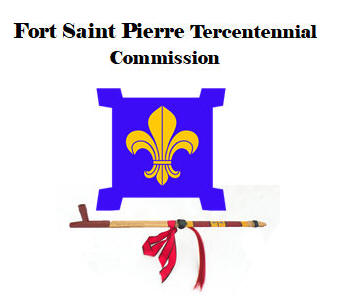 When local folks are asked what they know about the rapidly approaching 300th anniversary of the French establishing, a fort and settlement here in Warren County in 1719, the response is often something like, ď I never heard of Fort St. Pierre." Given the scant recognition the Fort has received over the years, it is not surprising that so many are so unaware of itís historical importance.
Exceptions to this general lack of awareness include a great little 1931 booklet, now long since out of print, that described Ft. St. Pierre and other historical sites in the area. There is also a wonderful diorama of Fort St. Pierre commissioned by Gordon Cotton about 1975 and still on exhibit in the Old Courthouse Museum.
A third important recognition of our local French heritage came with the decision of the Colonial Dames of the Seventeenth Century to name their Vicksburg chapter in honor of Fort St. Pierre. These appropriate gestures have helped to prevent the site from falling into historical oblivion.

Equally surprising to many is that Ft. St. Pierre is one of only two sites of the French and Indian period to be designated National Historic Landmarks in Mississippi (NHL). These are sites that possess exceptional value or quality in illustrating or interpreting the heritage of the United States. The other historic, archaeological site designated a NHL here in Mississippi is the Natchez Grand Village.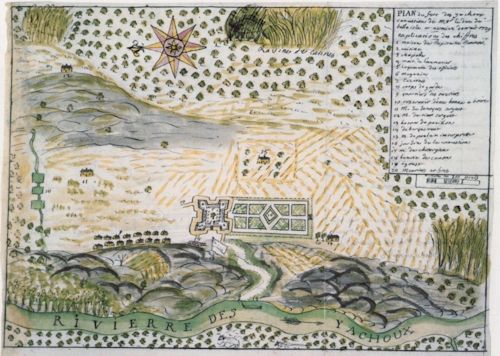 Click here for a larger view of this map.
Click here to see the Old Court House diorama of Fort St. Pierre
and read the OCH account of Fort St. Pierre.

The prized NHL designation is largely a function of the collective efforts of a group of archaeologists beginning about 1974 and continuing down to today. The lionís share of their efforts was the field work, laboratory analysis and archival research of Dr. Ian Brown and his students at the University of Alabama, Tuscaloosa.
Brown convincingly argued that Fort St. Pierre was a vital link in the chain of French military posts and settlements comprising the vast land holdings of the French Atlantic Empire, an empire consisting of thousands of square miles and thousands of people, including French military forces, settlers, traders, slaves and Native Americans.
Fort St. Pierre was a critical buffer between the Lower Mississippi River French colonies and those to the north in the Illinois country and Canada.
The fortuitous preservation of the forts ruins, followed by a rapidly accumulating protective ground cover and lack of serious 19th and 20th Century land disturbances, has left an extraordinarily rich archaeological record, seldom replicated at other more seriously disturbed sites.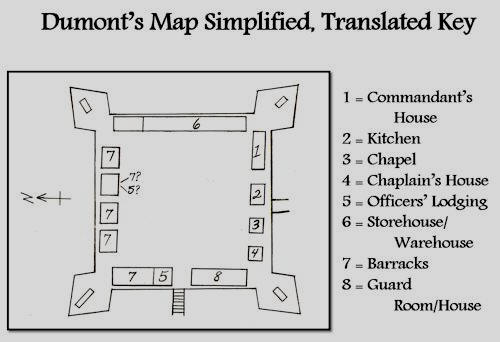 Map Credit: Lisa Marie Malischke
2015 Heterogeneity of Early French and Native Forts,
Settlements and Villages: A Comparison to Fort St. Pierre (1719-1729) in French Colonial Louisiane.
That rich record is producing a plethora of new information on this important era and the lifeways of those who inhabited Fort St. Pierre. What is being learned in this collective research is far beyond the scope of this web site. The fascinating story begs to be revisited over and over in many media and forms.
Join us as we execute the planning process to celebrate the 300th Anniversary of our Fort St. Pierre in 2019.

Frederick L. Briuer, Ph. D.
Chair
Fort St. Pierre Tercentennial Planning Commission